---
Wet microbial penetration resistance tester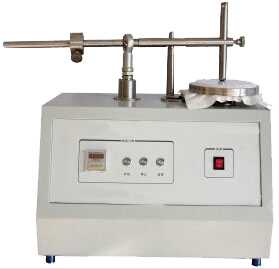 The Wet microbial penetration resistance tester is used to determine the performance of the material in the resistance to the penetration of bacteria in the liquid during mechanical friction (the shielding performance of the liquid carrying the bacteria through the mechanical friction).

Core advantages:
The rotary table turns quiet and smoothly, and the timer automatically controls the rotation time of the rotary table.
The test refers to the rotation of the rotating outward wheel, which can be rotated from the center of a rotating AGAR plate to the periphery.
The test means that the force applied to the material can be adjusted.
The test parts are made of corrosion-resistant stainless steel.
Applicable Standards:
YY/T 0506.6-2009 Surgical drapes, gowns and clean air suits, used as medical devices, for patients, clinical staff and equipment-Part 6:Test method to determine the resistance to wet bacterial penetration

Applications:
The Wet Penetration Tester is mainly used for the detection of the anti-microbial penetration performance of medical surgical operation, operation clothing and clean clothing.
Principles:
Place the specimen on AGAR plate. A piece of the same specification is placed on the specimen. Cover with a high density polyethylene film about 10 microns thick. The three layers of material using the cone steel ring (the test material below, the mushroom center, high density polyethylene film on top) are stuck together. Place the ring on the AGAR plate on the turntable. The experiment means that the material can be applied to the material in a way that can be moved on the surface of the whole plate, so that the material is subjected to the combination of pressure and friction.
This model can simulate the force condition of the barrier material in the actual application and the microorganism penetration under the wet conditions.
The microbes on the microbial migrate to the surface of the AGAR plate after penetrating the experimental material. Through the culture and colony count of AGAR plate, the penetration performance of the test material can be quantitatively evaluated.
Specifications:
Rotary speed: (60 ± 1)rpm
The test refers to the pressure on the material: (3±0.02)N
Outward wheel speed: 5~6 rpm
Timer set range: 0~99.99min
The inner and outer ring weights: (800±1)g
Product accessories:
RULLA 2 frame
RULLA 2 support cylinder (90 mm in diameter, 40 mm high)
RULLA 2 wet resistance tester (including: 1x HDPE safety strip, 1x PU / PE strip)
RULLA 2 Reference (10 / pk)
According to EN ISO 22610: 135 g / m2 Polyester cloth according to ISO 15707 standard for cleaning
RULLA 2 Petri dish (diameter * height: 140 * 20 mm)
Optional spare parts
RULLA 2 precision spring scale (according to EN ISO 22610, EN 13795 and EN 14126)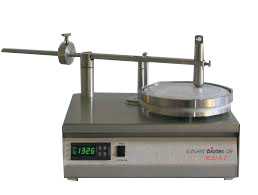 Note:QINSUN always been committed to innovation and improve product performance and functionality, based on the reasons, the product specifications will be changed accordingly. The above without prior notice, the Company reserves the right to amend the final.