---
Cabin Air Filter Test System For Gas Adsorption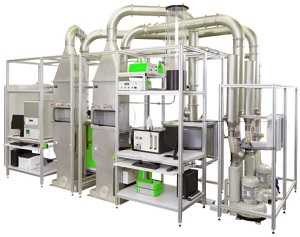 Since 1995 our company has been developing test stands for measuring the adsorption capacity or desorption behaviour of adsorptive filters. The design of the test stand, the test procedure and data aquisition have been based on the DIN 71460-2 standard and ISO 11155-2. The test section and associated ductwork are fabricated from stainless steel. Different sizes of filter media samples and elements can be tested and are mounted in a special adapter. A window in front of the test section allows visual observation of the sample during the test. A pair of mass flow controllers is used for metering gaseous components from gas cylinders and a new, sophisticated, dosing unit for liquid gas components has been developed specifically for this application. This is based on evaporation of a droplet spray atomized by means of a two-stream nozzle fed from a μl-dosing pump. The gas concentration can be measured downstream of the filter. An exhaust system by-passing the test channel facilitates maintaining a very stable gas dosing even when the filter must be inserted or removed. This technique of a continuous exhaust also meets stringent safety requirements.
Applications
● Differential-Pressure measurement
● Adsorption/Desorption measurement acc. ISO 11155-2 (DIN 71460-2).
● Operator is guided through test routines
● Modular system
● Versatile
● State of the art
Features
◆ Test channel and rig
◆ Gas dosing system
◆ Exhaust system
◆ Flow meter
◆ Gas analyser
◆ Sensors
◆ Test stand control
Technical Parameters
Items
Parameters
Air flow
70…700 m³/h ±1%
Differential pressure
0…1000 Pa ±2%
Filter adapter
300mm x 600mm
Sensors
Temperature, relative humidity,
atmospheric pressure
Gases
● n-Butane 80 ppm (C4H10)
● Toluene 80 ppm (C6H5CH3)
● Sulphur dioxide 30ppm (SO2)
● Ammonia 30 ppm (NH3)
● Nitrogen (purging)
Gas analyser
● FTIR spectrometer, Equinox 55 (IFS 28), Bruker
● FID gas detector, Bernath Atomic
● NDIR, CLD devices
● Other on request
Power supply
3 x 230 VAC, 16 A
Test rig dimensions in mm
1800 x 1100 x 2500
Note:
QINSUN is very in place for textile testing and quality control,we have our own textile testing lab. Our
textile testing equipment
and testing methods are in the leading position in the industry. We have passed the textile testing certification and iso textile testing standards issued by a number of testing,We can provide
textile testing equipment pdf manual
. Sufficient inventory, big discounts, limited time promotion, Order now!