---
STD-9708 Standard Fade Meter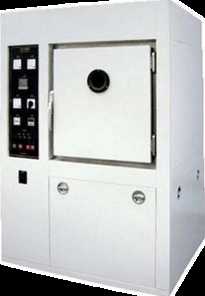 Lightproof and discoloration test is an accelerated test to find out the impact of ultraviolet rays on color change. The scope of test includes dyeing & conditioning, printing, hide, plastics, synthetic glass, paint making, textile, ink, rubber, and other industries using pigments. The test result may be available in a short period and this will help evaluate the degree of lightproof and discoloration.

Feature and specification
Low consumption low cost of test. The voltage detection auxiliary systems. Servo current adjustment device. Box Size of the pull wet system or automatic humidification systems to choose from. Long-life American original carbon rod. Barrel tilting specimen holder, the specimen may be waived troubled position of the replacement. B.P.T. Temperature up to 83oC.

MODEL
ITEM

STD-9708A

STD-9708B

INSIDE DIMENSION

700x700x900(WxDxH) mm

OUTSIDE DIMENSION

1150x900x1800(WxDxH) mm

LIGHTING SOURCE

ENCLOSED CARBON ARC

TESTING TIME

20Hr or 48Hr*

TEST VOLTAGE

120V to 145V(135V)

TEST CURRENT

15A to 17A(16A)

SPECIMEN DRUM DIA

508mm

DRUM ROTATION SPEED

3 RPM

TEST SPECIMEN

50x50mm 40 PCS (2 STAGE)
50x50mm 60 PCS (3 STAGE)

HUMIDITY EQUIPMENT

TYPE

WICK TYPE

PAN TYPE

HUMIDITY EQUIPMENT

SYSTEM

NATURE

CONTROL

TEMPERATURE RANGE

RT+10oC ~80oC

HUMIDITY RANGE

UNDER 50% RH

30%~85% RH

CARBON TYPE

UPPER

13Φ*305mm (1 UNIT)

23Φ*106mm (1 UNIT) 48H

CARBON TYPE

LOWER

13Φ*100mm (2 UNIT)

18Φ*105mm (1 UNIT) 48H
Note:
QINSUN is very in place for textile testing and quality control,we have our own textile testing lab. Our
textile testing equipment
and testing methods are in the leading position in the industry. We have passed the textile testing certification and iso textile testing standards issued by a number of testing,We can provide
textile testing equipment pdf manual
. Sufficient inventory, big discounts, limited time promotion, Order now!