---
Oil Water Separator Systems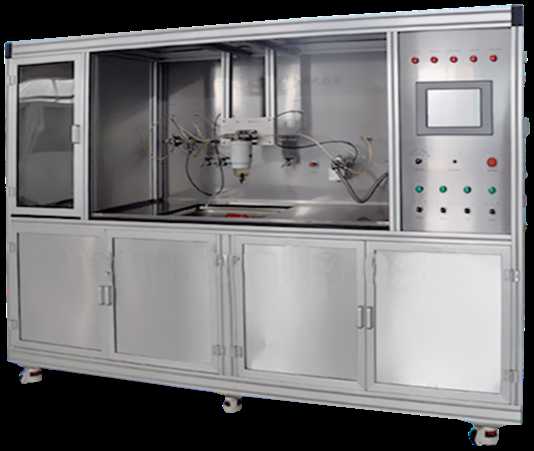 Introduction
Oil-water separation test bench (hereinafter referred to as the test bench) mainly refers to ISO / TS 16332-2006 "Diesel engine dust filter fuel water separation effect assessment method" to test the oil filter oil and water separation characteristics; Besides, it implements ISO4020-2001 " Road vehicles - diesel fuel filter with the test method ", to test the fuel filter cleanliness. Display the main technical parameters: test flow, the system pressure, orifice device pressure, the pressure difference between the test piece, the medium temperature.
Application
· Comparison with foreign product performance data.
· Product quality control.
· Third party testing, supervision agency.
Test items
· Oil and water separation performance of fuel filter
Cleanliness test of fuel filter
Features
◆ The test bench can automatically acquire the main performance parameters.
◆ Flow regulation is controlled by frequency converter.
◆ Test bench with a variety of load protection, includes hydraulic protection and electrical protection (leakage protection, overload protection, emergency stop) and so on.
◆ The test bench shell is made of aluminum alloy, the panel is made of stainless steel, the word adopts wax word, and the connecting pipe adopts seamless stainless steel tube.
◆ Note: The above parameters can be designed and manufactured according to the different requirements of customers.
Standards
ISO/ TS 16332-2006 Diesel engines - Fuel filters - Method for evaluating fuel/water separation efficiency
ISO 4020-2001 Road vehicles; Fuel filters for diesel engines; Part 1 : Test methods
SAE J 905-1999 Fuel filter test methods
Technical Parameters
| | |
| --- | --- |
| Items | Parameters |
| Test flow | 60 L/h~600 L/h or 30 L/h~300 L/h |
| System pressure | 1MPa |
| Temperature | At room temperature or optional heating and cooling functions |
| Water flow | (1.5~200) mL/min |
| Orifice | Imported or domestic |
| Test oil | 0 # diesel |
| Test tank | 75L (subject to final design) |
| Water tank | 15L (subject to final design) |
Note:QINSUN always been committed to innovation and improve product performance and functionality, based on the reasons, the product specifications will be changed accordingly. The above without prior notice, the Company reserves the right to amend the final.