---
Aging Tester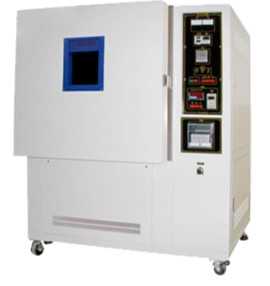 Introduction
The device may be specifically used to make the aging test on rubber, plastic and some other kinds of insulating materials. Its function is different from other aging stove because it has the following features in design:
1. The temperature may be precisely adjusted.
2. The temperature is uniformly distributed.
3. The temperature may be quickly raised after the door is opened.
4. The wind speed and the rate of air change in the test tank are high.
5. Heat insulation of the test tank is good.
6. Special adjustment device for better air change rate.
Feature
· Temperature control uses P.I.D. automatic SCR current regulator.
· Warning signal of trouble is available multiple protection loop circuits.
· Specially designed bypass air vent makes the temperature equally distributed in the tank.
· Perfect airtightness ensures correct air change rate.
· Turbo stainless steel fan action
Technical Parameters
ITEM
TMJ-9711A
TTMJ-9711B
INSIDE DIMENSION
400x500x400mm
500x600x500mm
TEMPERATURE RANGE
RT-200oC
RT-300oC

TEMPERATURE
INDICATOR
±0.3oC
±0.3oC
UNIFORMITY
±0.5%
±0.5%
ROTATION SPEED
10RPM
POWER CONSUMPTION
(220V SINGLE PHASE)
5KW
7KW
Note:QINSUN always been committed to innovation and improve product performance and functionality, based on the reasons, the product specifications will be changed accordingly. The above without prior notice, the Company reserves the right to amend the final.