---
Perspiring Thermal Artificial Sports Foot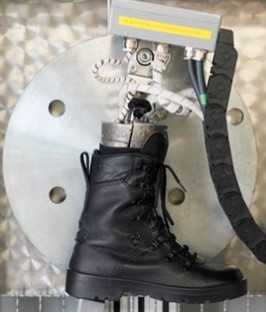 Introduction
The perspiring thermal artificial sports foot test system is designed to measure and evaluate the comfortableness of shoes. Through simulating the actual walking process of shoes in daily life, the test system can indicate the thermal transmittance, air permeability, moisture permeability of shoes in the process of actual use.
It is suitable for the quality control of footwear production and function verification of newly developed and designed products.
The sensory experience of shoe comfortableness is numerically expressed with test results, which converts the comfort evaluation into objective data. The test avoids different results and unreliable performance comparison due to human sensory difference, and achieves the comparison of comfortableness among different styles of shoes.
Features
· 9 independent control segments, independent supervisory system for each control segment.
· Silver foot model
· Built-in water system with flow adjustable by high precision flow pump.
· Mobile toes and ankle, convenient for shoes to take on/off.
· Encircling heating assembly, matched with encircling sensors
· Precision wire-type temperature sensor, to avoid temperature deviation between single-point detection temperature and actual temperature.
· External control system, efficient integration, stable and reliable
· Adjustable walking speed.
· Real-time display of test data, shown separately for each independent segment.
· Visualization display of pictures and numerical value
· Test result accessible for extraction at any time, real-time display of the test data.
· Control software incorporated with data acquisition, real-time data statistics, and self calibration function.
· Various control modes: temperature control, heat flux control, comfortableness control and optional custom mode.
Technical Parameters
| | |
| --- | --- |
| Items | Parameters |
| System temperature measuring accuracy | 0.2℃ |
| Power measuring accuracy | 1% |
| Temperature setting range | 20-45℃ |
| Heat flux | ≤800W/m2 |
Note:QINSUN always been committed to innovation and improve product performance and functionality, based on the reasons, the product specifications will be changed accordingly. The above without prior notice, the Company reserves the right to amend the final.