---
Sunbeam type weatherproof test device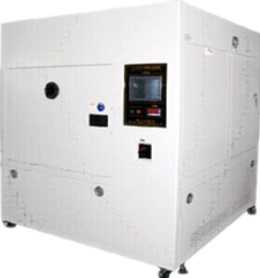 Introduction
Sunbeam type weatherproof test device: Accelerated test has been conducted with sunbeams of the wave length equal to that in California in order to achieve the reliable result. The function of the device may be further improved. The sunbeam type test device for general purpose may be used in the fields of coating industry, automobile industry, construction industry, communications, textile industry, aviation industry, rubber industry and plastic industry to shorten the test period. The test results may be evaluated according to the JIS, CNA, ASTM, and DIN.

Feature
1. The temperature, humidity, voltage and current of the arc as well as density of the arc may be recorded simultaneously.
2. The test may be continually conducted for 60hours.
3. The temperature of the BT black ball is shown in digits and it can be regulated for steadiness by adjusting the air value.
4. The unique design of DEW may enable you to understand the properties of the item being tested easily and quickly.
5. All figures shall be shown in digits and recorded for long term storage and reference.
6. The arc intensity detector is used in order to control the wave length of the light within the standard range.
7. Specimen condensation and the dark devices.
8. The light intensity measurement, recording and control (Option).
9. The application of a variety of filter glass can be simulated indoor light or outdoor weathering.
10. The upper and lower carbon rod autonomous planetary orbit, the control will not produce accurate friction resistance.
11. Servo motor-driven, smooth and quiet no noise.

Specification
MODLE
ITEM

TMJ-9706

LIGHTING SOURCE

ENCLOSED CARBON ARC

INSIDE DIMENSION

1100x1100x1000 (WxDxH)mm

OUTSIDE DIMENSION

1400x1400x2000 (WxDxH)mm

WEIGHT

400KG

TESTING TIME

60Hr/72Hr*

TEST VOLTAGE

48V TO 52V (50V)

TEST CURRENT

58A TO 62A (60A)

BLACK PANEL TEMPERATURE

CONSTANTLY 63oC or 83±3oC AUTOMATICALLY

SPECIMEN DRUM DIA

960mm

DRUM ROTATION SPEED

1RPM

TEST SPECIMEN

NO

76 PCS (2 STAGE)
150x70 (WxD) mm

SIZE




HUMIDITY RANGE

HUMIDITY RANGE
DRY at 40oC, 40% to 85%RH
DRY at 80oC, 30% to 50%RH
DRY at 40oC, 40% to 85%RH
DRY at 80oC, 30% to 50%RH

UPPER

35Фx350mm( 4 UNIT )

35Ф x 420mm(4 UNIT) 72H*

CARBON TYPE

23Ф x350 mm(4 UNIT )

POWER SOURCE

220V/380V SINGLE PHASE 13KVA

220V/380V SINGLE PHASE 13KVA

NOTE: *Representation is special specifications need another quote.
Note:
QINSUN is very in place for textile testing and quality control,we have our own textile testing lab. Our
textile testing equipment
and testing methods are in the leading position in the industry. We have passed the textile testing certification and iso textile testing standards issued by a number of testing,We can provide
textile testing equipment pdf manual
. Sufficient inventory, big discounts, limited time promotion, Order now!