---
Fabric Friction Charging Tester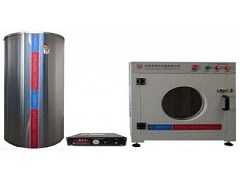 The Fabric Friction Charging Tester is composed of a friction device and a potential measuring device, which is used to test the electrostatic characteristics of the fabric after the charge is charged under laboratory conditions.



Standards compliant

:FZ / T01060 GB / T



The main purpose:


The measuring device consists of a friction device and a potential measuring device, which is used to test the electrostatic characteristics of the fabric after charging.



The main parameters:


1, the measurement range: 0 ~ 2uC
2, precision: 0.001uC
3, the input impedance:> 10Ω
4, roller friction machine: diameter ≥ 590mm; depth ≥ 360mm
5, static tube: diameter: 500mm; depth: 1350mm
6, Dimensions: 1200 × 600 × 1400mm
7, power: AC220V 50HZ 1.5KW
8, weight: 65Kg
Fabric Friction Charging Tester
main features:


1. The measuring device is composed of a friction device and a potential measuring device;
2, the potential measurement device consists of Faraday tube and electrostatic potentiometer components;
3, placed position: Faraday tube: ground, electrostatic potentiometer: experimental bench (or desktop).
Note:
QINSUN is very in place for textile testing and quality control,we have our own textile testing lab. Our
textile testing equipment
and testing methods are in the leading position in the industry. We have passed the textile testing certification and iso textile testing standards issued by a number of testing,We can provide
textile testing equipment pdf manual
. Sufficient inventory, big discounts, limited time promotion, Order now!