---
Alcohol abrasion resistance tester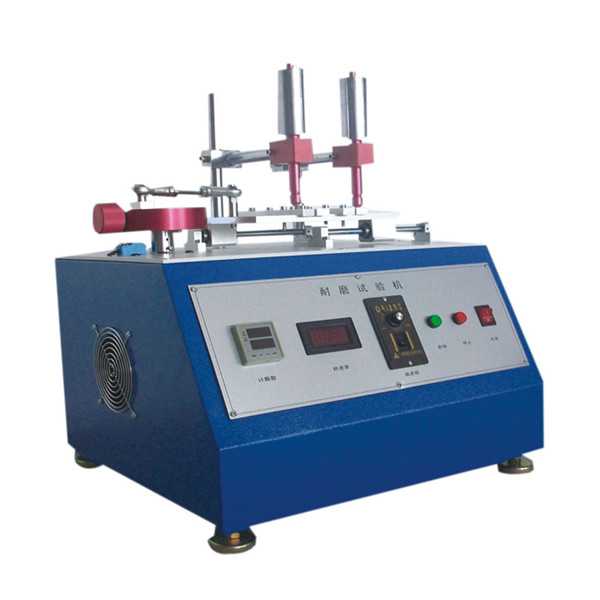 Brief Introduction:
The Alcohol abrasion resistance tester complies with UL817 and other relevant standards "special rubber fixed to the machine friction rub hammer surface to a certain load and frequency requirements for safe use of the provisions" applicable to manufacturers and quality control departments for mobile phones, keyboards and other accessories surface resistance grinding test, to assess its degree of wear. This machine adopts variable convex shaft structure, the Japanese origin of ball drive to make it work with the servo motor can make about duplex movement, and has an adjustable test speed and functionality of stroke (without shutdown), adjustment is very easy. Test speed can be displayed, and set the number of trials; to achieve a variety of products for injection surfaces, such as silk screen printed for abrasion life test, the friction medium: eraser, cotton and so on. This equipment is widely used in plastic, wire, electrical appliances, leather and other manufacturing industries.
Core advantages:
This applies to all types of plastic injection products, silk screen, printing, painting, plating surface for abrasion tests, such as: computers, mobile phones, cameras, MP3, CD / VCD / DVD, cordless phones, electronic dictionaries, household appliances, etc.
The friction test machine uses variable cam structure, the import-roll drive track, so that the work piece can be changed with the motor up and down movement of the station, so as to achieve the test surface abrasion life test. This machine is mainly used for silk screen surface of various products for abrasion tests. Friction surface (a certain load), after a certain speed and stroke rate after the friction test and untested.
Specifications:
Test Stroke: 10 ~ 80mm (adjustable)
Test speed: 10 ~ 100rpm / min
Load weight: 50,80,100,200,500g
Machine Size: 450 * 380 * 460 (W * D * H) mm
Get Attached: 2 Malaysia 7017R eraser
Abrasion test machine features:
The test machine can do alcohol, pencil eraser abrasion and scratch three tests
Fixtures:
2, alcohol friction test head (with a standard white cotton can be used wet or dry friction friction)
3, pencil scratch jig

Product Display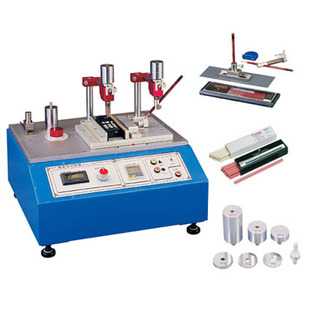 Note:
QINSUN is very in place for textile testing and quality control,we have our own textile testing lab. Our
textile testing equipment
and testing methods are in the leading position in the industry. We have passed the textile testing certification and iso textile testing standards issued by a number of testing,We can provide
textile testing equipment pdf manual
. Sufficient inventory, big discounts, limited time promotion, Order now!