---
Needle Flame Tester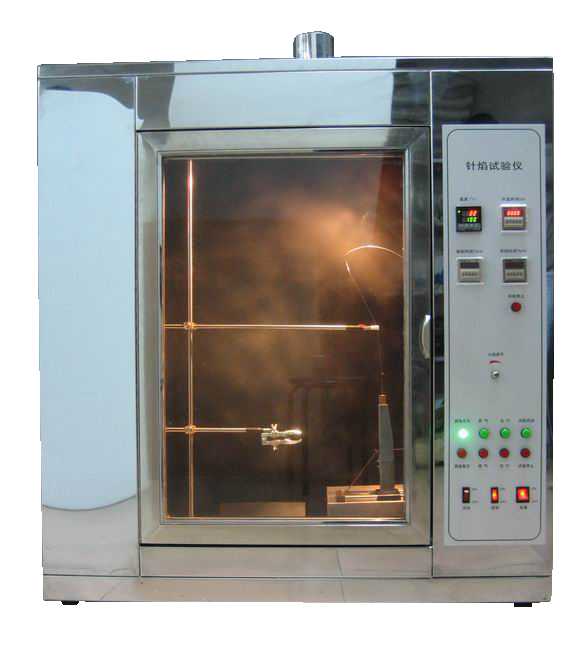 Product description:
Needle flame tester is the needle-shaped burner by a certain size, fill the inside with a specific gas (butane), and at 45 ° angle by fixed time and certain direction to test products, Assess the fire hazard of small flames caused by fault conditions inside the equipment, depending on the test sample Whether ignited, and its ignition time and combustion Length.

Standards:
GB / T 4207-84, IEC 6112, ASTM D3638, DIN 53480 and UL 746A test methods

Scope of application:
Needle flame tester used not only for low-voltage electrical appliances, power tools, machine tools, electrical instruments, household appliances, electrical, electronic equipment, lighting, electrical connections, accessories and other electrical and electronic equipment and components, components research, production and quality Departments, but also for insulating materials, engineering plastics or other solid combustible materials industry

Product features:
1, completely independent of electricity, gas design, use safely
2, military-grade explosion-proof glass
3, the unique delay exhaust system, the machine can continuously run after the exhaust ventilation which can be preset 1 ~ 3min
4, box with high hardness stainless steel
Experimental principle:
Needle flame tester burns the test sample In a 45 °angle direction timingly by using a specified size (Φ0.9mm) needle-like burner which have a specific gas (butane) . The dangerous accessment of the small flames caused by the failure conditions within the equipment depends on whether the test product ignite and the ignition time and the length of the combustion .
Features:
1, The charcater of test equipment :burning box and the main mechanical parts is made of stainless steel what is good looking 、smoke resistance corrosion.The Control system has a higher degree automation, imported key components , digital time, three-dimensional adjustable fixture, automatic control of test procedures, independent ventilation, easily used observation and recording, stable and reliable.
2, test box shell and important parts is made of stainless steel, smoke resistantly, gas corrosion. The control system has a high degree of automation and automatic ignition function. Temperature and time are digital displayed, easy to observe and record. The control system is stable and reliable.
Technical Parameters:
1, the equipment outside size: 1000mm wide × 650mm deep × 1300mm high
2, test background: black background
3, the burning time: 0-999.9s ± 0.1s adjustable (generally selected for the 30s)
4, burning time: 0-999.9s ± 0.1s, automatic recording, manual pause
5, the temperature test range: 0 ~ 1000 ℃
6, the combustion gas: 95% butane gas (can be bottled lighter gas)
7, the flame height: 12mm ± 1mm (with height measurement equipment)
8, the flame temperature requirements: from 100 ℃ ± 2 ℃ rose to 700 ℃ ± 3 ℃ time in 23.5 seconds ± 1 second
9, temperature thermocouple: Φ0.5mm imported armor (K type) thermocouple
10, the burner angle: tilt 45 ° (test) or vertical (height adjustment of the flame)
11, the test process: test procedures for automatic control, independent ventilation
12, the studio volume: 0.5 cubic, stainless steel chassis (0.75 cubic or according to customer requirements made a cubic)
13, needle burner: the hole Φ 0.5mm ± 0.1mm, diameter ≤ Φ 0.9mm, length ≥ 35mm, stainless steel
Note:
QINSUN is very in place for textile testing and quality control,we have our own textile testing lab. Our
textile testing equipment
and testing methods are in the leading position in the industry. We have passed the textile testing certification and iso textile testing standards issued by a number of testing,We can provide
textile testing equipment pdf manual
. Sufficient inventory, big discounts, limited time promotion, Order now!