---
dynamic fatigue testing machine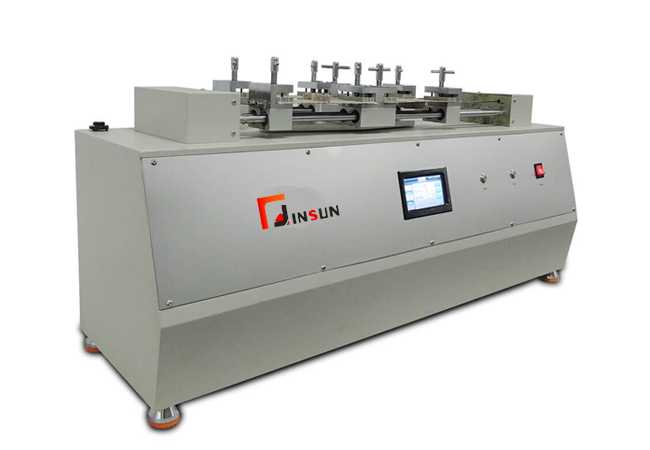 Applications:
The seam fatigue tester is designed to evaluate the fatigue resistance of seam on the material which is applied on the surface of automotive seat. The surface material of car seat (leather, synthetic leather, fabric, etc.) is often stitched together.

The stitching strength of the material seam and the fatigue strength of the seam can directly affect the service life of the seat. The strength and life of the joint of the test material can effectively predict the life of the seat and provide the direction of improving the service life.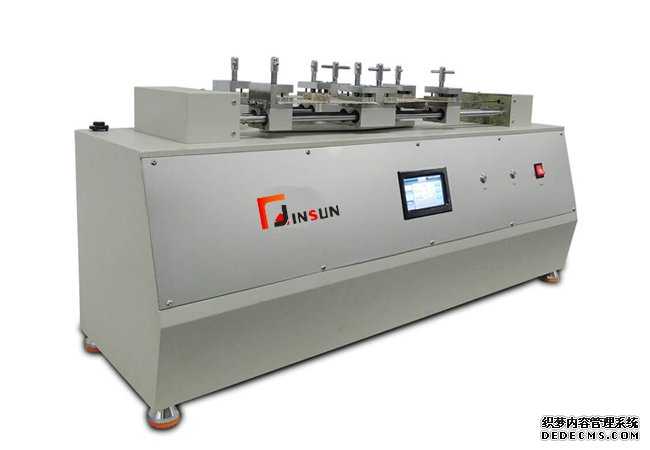 Leather seam fatigue tester Testing Method:
The operator installs the set up gage between one pair of sample clamps on a station. The sewn test sample is aligned and clamped into position.The set up gage is removed and installed on the second station. The second sample is aligned and clamped into position and the set up gage is removed. The desired number of test cycles is entered on the cycle counter and the test is started. Once this cycle count is reached the machine will automatically stop. Test samples are visually evaluated.

Features:
1.Mechanical components are constructed of non-corrosive Aluminum and Stainless Steel.
2.Durable Powder Coat and Anodized finishes.
3.Precision ball and needle bearings.
4.Programmable count-up controller with automatic stop.
5.Adjustable jog and test speed controls.
6.Adjustable weight shelf height.
7.Adjustable clamp separation distance.
8.Vented Protective Cover protects operator hands from pinch points.

Technical Parameters:
1.Stations: 2;
2.Testing load: 3kg;
3.Speed: 30 cycles/minute;
4.Cycle counter: 4 digits (standard of 2500);
5.Stroke: 140mm;
6.Sample clamp separation: 120, 124, 140, adjustable;
7.Sample clamp width: 50mm;
8.External dimension: 13×31×17 inches (L×W×H);
9.Weight: 50kg (110lb).


Note:
QINSUN is very in place for textile testing and quality control,we have our own textile testing lab. Our
textile testing equipment
and testing methods are in the leading position in the industry. We have passed the textile testing certification and iso textile testing standards issued by a number of testing,We can provide
textile testing equipment pdf manual
. Sufficient inventory, big discounts, limited time promotion, Order now!