---
oxygen index test apparatus for fabric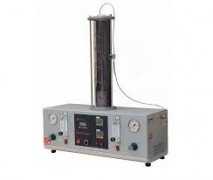 oxygen indexer testing machine



The high temperature oxygen index tester is designed and de-veloped according to ISO4589-3 (Elevated-temperature test) and British Naval Engi-neering Standard NES 715. Based on the general intelligent oxygen index instrument,the high temperature oxygen index tester adds a electric-heating device at the position of the combustion cylinder to preheat the mixed gas and test the ignition temperature of the different materials at a certain oxygen concentration.



automatic oxygen index tester

Standards



ASTM D 2863 Standard Test Method for Measuring the Minimum Oxygen Concentration to Support Candle-Like Combustion of Plastics (Oxygen Index)
ISO 4589-2 Plastics-Determination of burning behaviour by oxygen index –Part 2: Ambient-temperature test
CEI 20-22/4 Tests on electric cables under fire conditions-Part 3: Tests on bunched wires or cables
NES 715

oxygen index tester manufacturers Features:

Imported oxygen concentration sensor (paramagnetic oxygen concentration sensor for model F248A, electrochemical oxygen concentration sensor for model F248D ) showing the oxygen concentration accuracy of ± 0.1%.
High temperature resistant quartz glass tube, outlet diameter 40mm.
Supportive and non-supportive sample holder.
Portable ignition, easy to operate.
Patented gas flow control unit which equipped with mass flow controller mixing nitrogen and oxygen can precisely control the gas flow.
After setting the oxygen concentration on screen, PLC control system can automatically adjusts the oxygen concentration according to the set value , precise and easy control.
The gas mixing chamber with patented design can ensure that the oxygen concentration measurement more accurate and the mixture of oxygen and nitrogen more better.
LCD real-time can display flow, time , test data and other parameters.
Dual flow meter and pressure gauge device: accuracy of ± 1%.
Equipped with special ignition.

oxygen index flammability tester Configuration include:

Support for self supporting specimens
Support for non-self supporting specimens
Support for thin specimens
Column Pyrex glass with cap
Burner for the ignition of the sample with manual regulator and gas hose
Clamp for specimen positioning
Determination of the percentage of oxygen through a paramagnetic transducer (accuracy O2 <0.1% )
Direct reading on color display 3.2" (% Oxygen, Flow, Air)
Automatic flow through Mass flow
Automatic mixing oxygen / nitrogen
Management of equipment Microprocessor
Management mixture by addition of air to more economic measures with high concentration oxygen
Automatic calibration (0 and 100%)
Distributor flow inside the column
USB output to connecting PC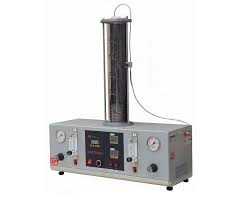 Note:QINSUN always been committed to innovation and improve product performance and functionality, based on the reasons, the product specifications will be changed accordingly. The above without prior notice, the Company reserves the right to amend the final.