---
Gloves Cut Resistance Testing Machine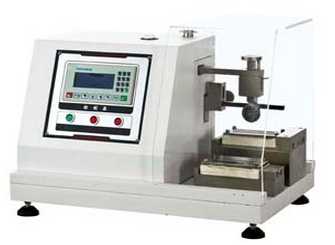 Safety Glove Cutting Resistance Test Machine and tester for testing the upper, protective gloves, leather and other materials, cutting strength, suitable for safety gloves protection area knife-resistant test, but not for those very hard material gloves.
Test Criteria:
EN ISO 20344, GB / T 20991, EN 388, EN 340
Detection Principle:
A rotating circular blade is cut and placed on a dedicated sample device. The blade is reciprocated under a specified load, automatically counted, the test is automatically stopped, and the difference between the test before and after the test is made. Test Results.
Technical Parameters:
1. Number of test samples: 1 group;
2. Horizontal movement displacement: 50mm;
3. Blade rotation direction: the opposite direction of motion;
4. Blade cutting speed: maximum 10cm / s;
5. Load on blade: 5 ± 0.05 N;
6. Round blade size: diameter 45 ± 0.5mm, thickness 3 ± 0.3mm;
7. Total cutting angle: 30 ° -35 °;
8. Blade material: hard tungsten steel, hardness of 740-800HV;
9. Dimension: 550 × 400 × 250mm (L × W × H);
10. Counter: LCD liquid crystal display, 0 ~ 99,999,999;
11. Weight: 57.5kg;
12. Power: 220V 50Hz;
Note:QINSUN always been committed to innovation and improve product performance and functionality, based on the reasons, the product specifications will be changed accordingly. The above without prior notice, the Company reserves the right to amend the final.